Saturday, August 19 - "NA NA LAND"
Thanks to Meg for writing today's post!
What an amazing play performance we had! All that practice we had all week and all day today paid off! Everyone did a wonderful job. We loved getting dressed in the dressing room and having our makeup put on. That made it feel like a real performance!
A big thank you to everyone who made it all possible, especially the Theatre Workshop of Nantucket, and thanks to our friends and family and the majority of the Mama Mia cast who came to watch us! We would also like to thank Gillian (the founder and former camp director) for coming. It meant a lot to us! Gillian and our friends will always be a part of the Tulgey Wood community.
We all had a lot of fun and we hope to keep a new tradition going of performing in a theater every year. Thanks to Gary Langley, we have tons of pictures to share here -- and hopefully, we'll soon have a link up to the play itself!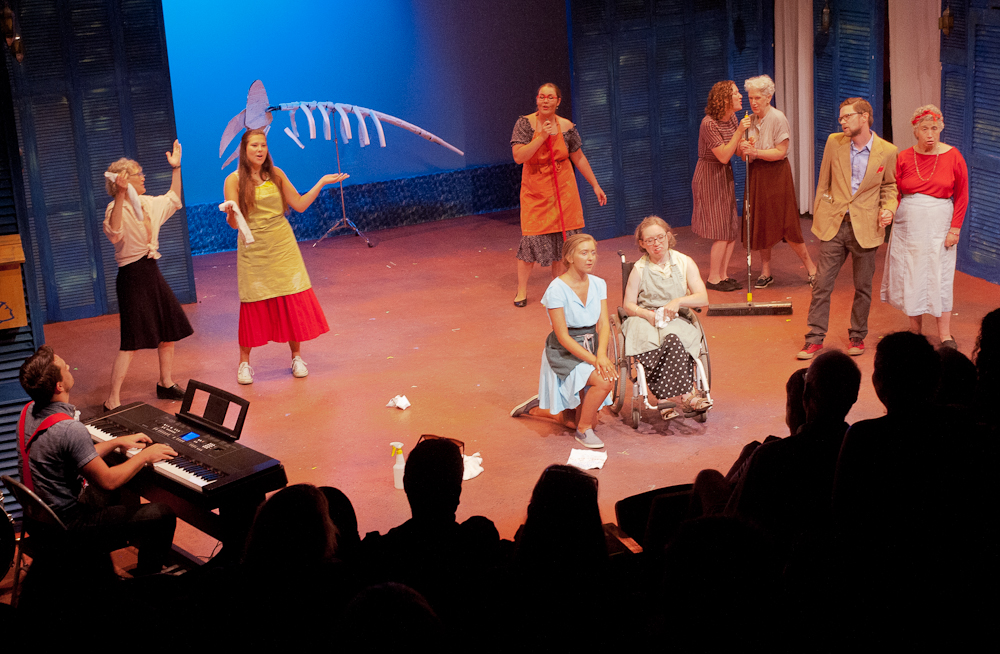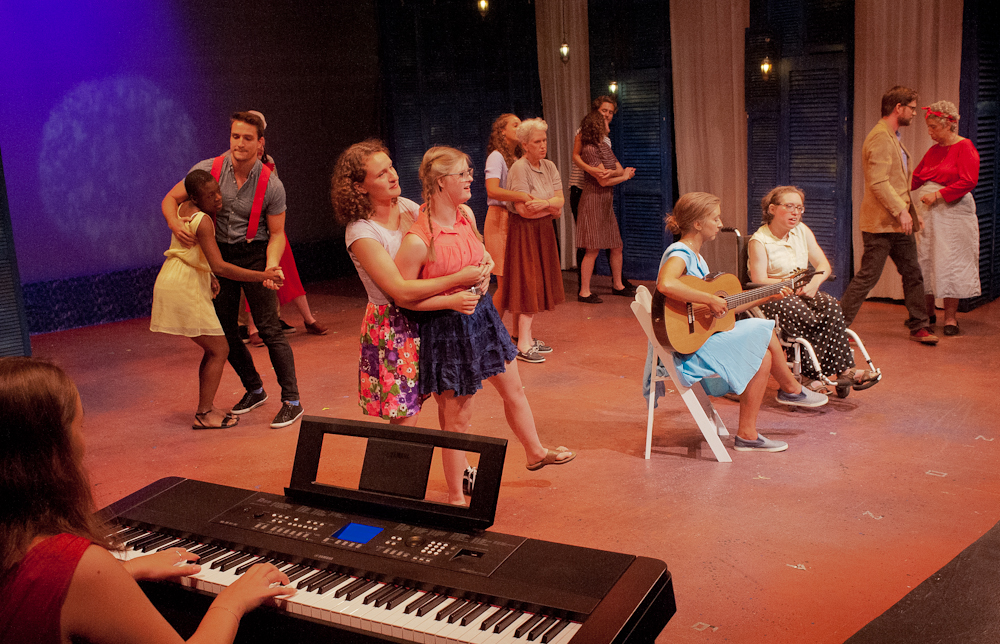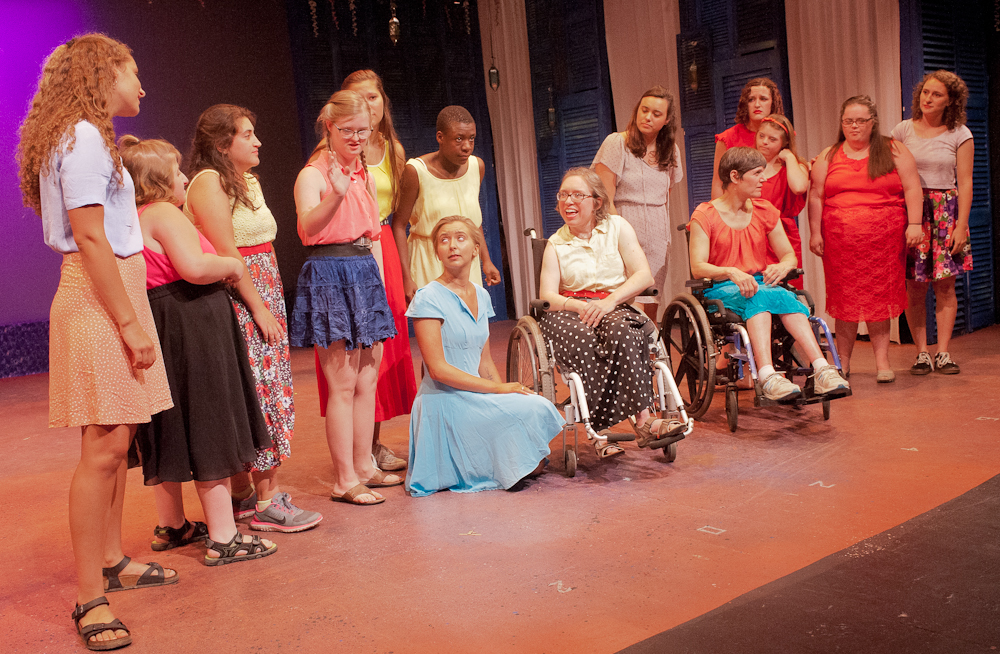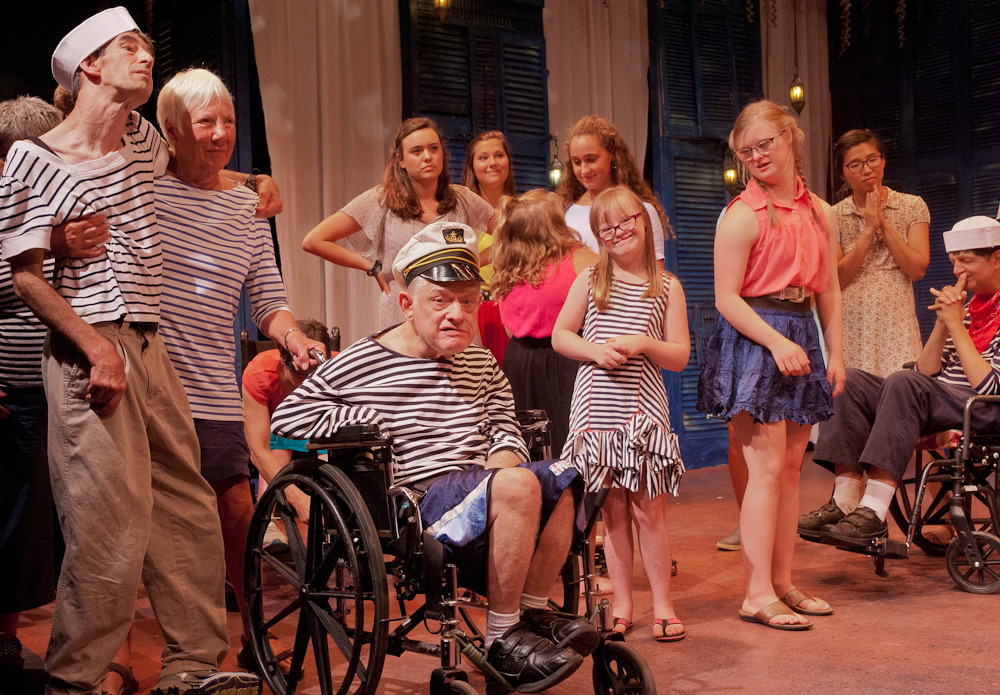 After the play, our supporters joined us for light refreshments and congratulated us on our performance and had a group photo of us taken in front of the theater.
Then a group of us went to pick up the yummy pizza for dinner which was a big hit! Thanks so much to Maria of Pi Pizza who donated them.
After dinner, we proceeded outside for a camp fire and had s'mores and sang along to songs. It was a lot of fun but people retired early to bed as it had been a very long day filled with excitement!
Tomorrow is our last full day of camp and we can't wait to find out what is in store for us!
Meg
Sunday, August 20 - Last full day of camp!
Once again, thanks to Meg for today's blog post!
The morning of our last full day of camp, we woke up to the aroma of freshly baked bagels for breakfast (thanks, Harry!!!) and then we cleaned up the house to make it easier to close up camp after many of us leave on the ferry back tomorrow morning.
After cleaning, we set out on a scavenger hunt, starting and ending at Children's Beach. We walked around town to find as many clues as we could from a long list: we had to take pictures or video record them to prove we had found them. We had an hour and a half to do as many as possible.
Some of clues were: find someone wearing Nantucket reds; find someone wearing white pants with a red belt, which it turns out no one does!; ask a stranger to marry you; ask someone to pronounce Tulgey Wood; find a store with some merchandise you can hold priced over $5,000; board a boat . . .
The teams all named themselves. When Team "Kieran's Whalers," which included Meg, asked a stranger to insult Martha's Vineyard (another item on the scavenger hunt list,)the woman said, "God created Martha's Vineyard, but lives on Nantucket." Steve got married to a stranger and Cameron wore two eye patches! Kieran's Whalers had a little adventure getting Cameron, Steve and Meg onto a boat (one of the harder challenges on the hunt!) because there was a big gap between the dock and the boat. They got on the boat in one minute and 30 seconds! What a record! The man who allowed them to get on his boat gave us a $40 dollar donation, which was so nice! Then, when that team was heading back to Children's Beach, Sean was giving Steve a piggy back ride and he fell backwards and scrapped his knee and back, so Mike L. got a taxi cab and spent $18 of the $40 donation. Man, a taxi is expensive on Nantucket! The good news is the team made back just in time for the hunt deadline.
Every team had adventures to share. Team "Shabooya Ole Fahts" was pretty tired after a lot of walking on uneven cobblestones in the sun and had just decided to take a break and drink some iced tea, even if it meant being late for the finish line, when a gentleman sat next to Rebecca and asked what they were doing. Rachel said they were doing a scavenger hunt and mentioned that they still needed to propose marriage to a stranger. He was instantly game, and when Rebecca asked him to marry her, he answered earnestly, "I know we've just met but I'm already in love with you! Of course I'll marry you!" Then he kissed her on the cheek. That gave their team the energy they needed to rally and hurry back to Children's Beach just in time for the deadline.
Team "Winfographics" took some excellent video of Peter's chair bumping over the cobblestones, which Peter thought might make him sick to his stomach, and found a ship model made of whale bone and priced at $60,000. It was behind glass, making it hard to hold in hand and therefore questionable whether or not it counted toward the challenge, but it was a great find!
Team "Yogis," the eventual winners, as it turned out, accomplished many items on the list. Candy cut right to the chase when it came to the proposal, just saying to the young man (who also had a beard, so that took care of an additional challenge item) the team hailed from across the street, "Marriage?" And without skipping a beat, he answered, "Marriage? Yes!" They were the only other team to board a boat, and their boat of choice had a ramp, so that made it a pretty manageable option. The team asked many of the people wearing white pants if they happened to also be wearing a red belt, but none were. With the hope of winning high in his mind, Harry finally bought a red belt and the team was easily able to coax a passerby to put it on and have her picture taken.
Every team had a great time and did a great job! What a fun way to meet new people on Nantucket. As someone said afterwords, if you tell someone you're doing a scavenger hunt, they'll do just about anything to help you! Thank you Harry for coming up with this idea and Jamie for making it work so well!
After the scavenger hunt, we had lunch made for us by the Hungry Minnow restaurant on Children's Beach, which was very generous! The owner, Rebecca, had met us at the Whaling Museum last year and kindly offered to give us lunch at the beach this year. Quesadillas, hot dogs, chips and popcorn made a fun meal before we took a swim or went back to camp to rest.
We were all entertained by a folk band after we returned from the beach and then watched a video of our play performance. It was fun to watch!
Then we had a Mexican casserole for dinner and ice cream for desert and said our good byes and how much we loved camp!
This is a piece of those goodbyes. Candy loved the boat ride and the play. Jamie loved watching Peggy and Grace interact with each other. Grace loved the s'mores and the beach and the food. Olivia was very appreciative of being a part of Tulgey Wood. Cameron indicated that he loved hanging out with Sean and got Sean to sing and dance to a Taylor Swift song.
Peter was proud to learn his lines for the play and loved the scavenger hunt. Will said he'd learned a lot about kindness, patience and friendship from Peter. Rebecca said, "I would like to thank all my friends that made my summer special for me!" Ellen sang "My Bonnie Lies Over the Ocean." Mike L. said that one sign of a really amazing camp is when cleaning the dishes makes him want to cry. Monik loved the music and doing the play and getting to know everyone at camp. Steve said, "When I found out that Gillian wouldn't be here anymore, I had second thoughts about coming, but I found out that you had it in you to make a great camp."
Katie said, "I love this camp. I want to come back next year. I like the Boston Pops Concert and the boat ride. I'll miss Jamie. She's become a good friend to me." Ben said, "I loved that I got to spend time with this incredible man (Bobby). He has so much joy and humor in every moment in his life!" Sean said, "From the first day I met Jack, he showed me so much love, because he knew my dad and my brother already. Now I've gotten to know Cameron and I look forward to having a long relationship with him, too!" Jack said, "This is a good team and I hope to see you all next year!"
Carley said, "All of you have a way of helping me open my heart more than I thought was possible. I'm grateful to be a party of this community!" Francis said, "The community of acceptance has been important to me as a new person. I've learned a lot from the things I've done her, whether they came out right or wrong, and it is helping me be a better person." Eleanor said it was a good summer, and she is so proud of all of us.
We were all sad but can't wait again for next year!"
Meg
Monday, August 21 - Leaving Day
Nobody's favorite day. . .
We love you! Hope to see and hear from you all soon!